"There is no reply from Azerbaijan and Armenia on a proposal of the OSCE Minsk Group co-chairmen, particularly, on organization of the next meeting of the Azerbaijani and Armenian Presidents in January," said Yuriy Merzlyakov, the OSCE Minsk Group co-chairman from Russia in an exclusive interview with Trend.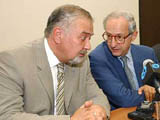 The diplomat voiced satisfaction with the approval statements of the officials of the both countries in regard to the January direct meetings of the Presidents. Besides, Merzlyakov did not exclude possibility of this question being discussed in details at the meeting of the OSCE Minsk Group co-chairmen with the Azerbaijani and Armenian Foreign Ministers in Lublana on December 5-6. The date of the planned meeting of the mediators on the Nagorno-Karabakh region is probably to be determined at this event.
The Russian diplomat refused to comment the last statements of the Armenian President and Foreign Minister. Robert Kocharian stated that Armenia may recognize the self-declared Nagorno-Karabakh Republic in case of reaching a deadlock in the negotiations. In his turn, Vardan Oskanian, said that Karabakh was an integral part of Armenia, which would never be handed over to Azerbaijan. Merzlyakov underlined that co-chairmen did not comment any statements made by the sides.
Trend