The leaders of Agjabedi department of "Azadliq" bloc were called to the Executive Power of district at 4 p.m. after the regional organization went on hunger-strike.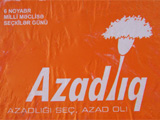 Head of regional Executive Power said that one of striker's demands - restoration of the freedom of assembly was fully accepted by the authorities. He submitted an official letter authorizing the opposition to hold a rally on the central square of the district from 2 p.m. to 4 p.m. on November 27.
As to the annulling of the results of elections held in Agjabedi election constituency #82, the mayor advised that because it is out of his competence, they should apply to a court.
Tofig Jafarov, chief of the regional department of the Democratic Party of Azerbaijan said that although the mayor talked with them frankly, they do not think of stopping the hunger-strike.
However, the opposition will hold the rally in Agjabedi on November 27.
APA