The sitting of the members of the Parliamentary Assembly of Council of Europe Permanent Committee was held today.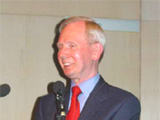 The discussions focused on the parliamentary elections held in Azerbaijan. APA was informed by head of the Azerbaijani delegation to the PACE Samad Seyidov that members of the Committee addressing to the sitting, expressed their intentions on continuation of the relations between Azerbaijan and the Council of Europe, assistance to the democratic development in our country.
Stating that different opinions were expressed at the sitting, Samad Seyidov also noted that, head of the CE observation mission on the parliamentary elections in Azerbaijan Leo Platvoet also delivered a speech expressing his opinion on some issues: "Leo Platvoet positively assessed the decrees issued by the head of the state Ilham Aliyev in pre-election and post-election periods, dismissal of heads of executive powers, providing the Prosecutor's Office of Republic with the information of violations by the Central Election Commission".
Platvoet made specific suggestions, considering it important to investigate carefully the illegalities happened on the election day. He also added that special measures are needed to be taken to prevent police and other forces interfering in the election process in future.
Leo Platvoet stressed the importance of the issue of holding normal and free rallies, continuation of a dialogue between political parties. The reporter noted that the situation on the election day was normal and democratic.
According to Seyidov, participants of the meeting spoke about the different illegalities, as well as improvements in the elections. They stressed the importance of taking measures to remove illegalities in future. The head of the delegation stated that these discussions might be assessed as preparation to the January session. He also added that, discussions of the parliamentary elections held in Azerbaijan will be continued in the January session of PACE mainly.
APA