Ten members of "Azadlig" member parties in Agjabedi have started a hunger strike at 10 a.m. yesterday.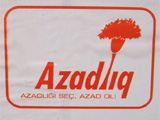 Head of Agjabedi department of the Democratic Party of Azerbaijan Tofig Jafarov said that the strike is held in the headquarters of the bloc on Mammad Amin Rasulzade Street. The hunger strikers demand nullification of results of the elections in Agjabedi ConEC #82 and resignation of a head of the executive power who interfered in the election process.
Jafarov also stated that they will continue the strike until their demands will be satisfied. It was expected that the former parliamentary candidate Seyid Jamal Azimbayli will also join the strike tomorrow.
The local department of the bloc is going to hold a rally in the center of the district on November 27.
APA