Lenkoran farmers enlarge areas under tea plantations. Family of an agronomist Ilyas Aliyev completed planting green tea in 3.5 hectare field in Vilvan village of region.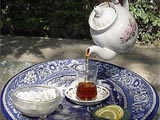 According to Shayyar Aliyev, the city Mayor's representative in Vilvan village, the authorities in order to support development of tea-growing in the district, contacted relevant organizations and asked them to lend privileged credits to local farmers.
"If this is solved, in near years the area of tea plantations will reach 10 hectares," said Aliyev.
Deputy Head of the city Executive Power on agricultural issues, Maharram Guliyev told APA that a new tea plantation was also been planted on two hectare area in Haftonu region of the district.
APA