"The Azerbaijani Ministry of Foreign Affairs studies recommendation of the Parliamentary Assembly of the Black Sea Economic Cooperation Organization (PABSECO) on opening of the Kars (Turkey)-Gumri (Armenia) railway line," said Mahmud Mammadguliyev, deputy of the Foreign Minister of Azerbaijan.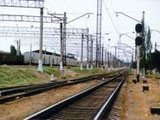 According to Mammadguliyev, the farther actions of the Ministry will depend on results of the study.
Armenian delegation that participated at the session of the General Assembly of the BSECO used the absence of Azerbaijani delegation to raise the issue of opening of Kars-Gumri railway line that led to adoption of recommendations by BSECO.
"The recommendations of the General Assembly on opening of the line are invalid," said Shaitdin Aliyev, chairman of a PABSECO committee.
Trend