"The principle of inheritance in the parliament should always be preserved. It is delighting that this principle was preserved in the latest parliamentary elections since 19 of the candidates winning these elections are the members of the first parliament," said parliament member Hadi Rajabli.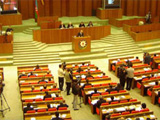 Stating that the composition of the new parliament changed by 65 percent Rajabli noted that about 55 mandates in the parliament were gained by parliamentarians of the previous assembly.
According to him, this change should be assessed positively and understood as formation of parliamentary traditions in the society.
APA