While compiling the list of electors from the Armenian community of Nagorno-Karabakh the Central Elections Commission (CEC) of Azerbaijan will use both the 'pre-conflict' lists of residents of the region and assistance by the international organizations, Natik Mammadov, the Secretary of the CEC, stated in his televised speech in a local television channel ATV.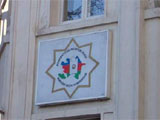 «Armenians residing in Nagorno-Karabakh community of Nagorno-Karabakh are the citizens of Azerbaijan, who can use their constitution rights for the participation in the forthcoming parliamentary elections in the country,» Mammadov underlined. All means will be used to reveal the coverage of the territory where this category of electors resides. The CEC Secretary noted that the coverage of the areas populated with Azerbaijanis in the Khankandi constituency is well known, he added.
According to Mammadov, today no candidate do Armenian nationality has been registered from this constituency. 6 citizens of Azerbaijan have taken lists for registration as candidates to MP.
At the moment a constituency in Khankandi temporarily functions in the building of the CEC of Azerbaijan.
Mammadov in the end said that the CEC of Azerbaijan was in search of ways for holding voting on this constituency.