Next meeting between the authority and opposition parties will be conducted in the headquarters of the Civil Solidarity Party on August 10.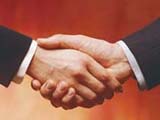 But there is also a probability that the dialogue will be delayed.
APA was informed about it by the chairman of the Motherland Party (MP) Fazail Aghamali. The chairman of the party informed that they addressed a letter to the chairman of CSP Sabir Rustamkhanli by means of fax today.
"We informed in the letter that we evaluate positively this initiative of CSP and solving the problems between the authority and opposition parties by means of round tables and dialogues. We always supported this position. But it is a pity that we can not sit at the same round table with them because PFPA and organizations patronized by it cooperate with the special service organs of Armenia. Maybe, such meeting will be held in the future. But at the moment we can not participate in this meeting. That is why we asked Sabir Rustamkhanli that the PFPA chairman should not participate in that meeting".
F.Aghamali informed that in case if A.Karimli does not participate in that meeting, the party will join the round table. The CSP chairman Sabir Rustamkhanli informed in his explanation to APA that they had sent out a letter to the parties participating in the process starting from the end of the last week. The meeting will be started in the headquarters of CSP at 12:00 am on August 10. S.Rustamkhanli said that two topics were included in the agenda of the round table.
These are creating equal conditions for the parties to participate in the elections and preventing holding non-ethical propaganda by competitors against each-other in the press. S.Rustamkhanli does not also accept the opinions of YAP and MP on considering participation of PFPA impossible in the meeting. "The first meeting was organized by YAP and the format of that meeting was also determined by them".