Around 600 refugees gathered in front of the building of the Popular Front of Azerbaijan Party (reformers - PFAP) at 11:00 am on 6 August and subjected it to the egg casting against the cooperation of Ruslan Bashirli, the chairman of the Youth Organization of New Thought close to PFAP, with the Armenian special service bodies, Trend reports.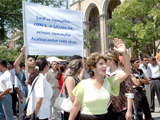 The protest, lasted for 20 minutes, was stopped after the interference of the PFAP representatives.
The leader of Isag Avazoglu, the head of the press-service of the PFAP (r), appreciated the action as continuation of the black PR's campaign.
According to Avazoglu, the police established conditions for them. The participants of the protest, which was postponed at 13:20 pm, gathered in front of the PFAP building a new.
The second action lasted 10 minutes.