The Bureau of International Information Programs of the US State Department disseminated text of the fourth annual report of the International Council on Researches and Exchanges (IREX) under the title "Media Sustainability Index 2004: Development of Sustainable Media in Europe and Asia".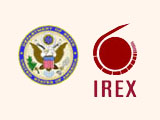 This report's development has been funded by the US Agency on International Development (USAID), Trend reports.  
According to the document, mass media develops differently in various post-soviet regions. The report, analyzing the mass media' quality and quantity in 20 countries, shows, that progress is observed in most East European countries, while in most Euro-Asian countries they remained at the same level or rolled back.  
The report analyses the media development for the four-year period from 2001 to 2004 on the following criteria: freedom of speech, media' plurality, accessible to citizens, the professional journalism standards, sustainability of the media business and the efficiency of institutions supporting the independent media. It also points out at the tendencies, both positive and negative, as well as scrutinizes the independent media prospects in each country.
The document picks out three basic negative tendencies:
- drawbacks in application of the legislation, targeted at the defense of freedom of speech and at  media regulating, impartially and transparently;  
- general self-censorship;
- non-availability of the journalists University training due level
In the heading «Negative tendencies" on application of the legislation on the media, it is noted, that one of the main constantly negative tendencies, media faces in the countries is the weakness of the judicial system and distressing incapability to apply effectively the legislation, designed, at least, theoretically, for the freedom of speech protection and unbiased and transparent regulation of media.  
Though a lot of countries have good laws, many groups point out that they are not implemented in practice. Really, the average point for this specific category is 1,94, which shows the instability in legislation on media application in 2004.
As one of the group members who carried out researches in Azerbaijan noted, "the law and its application make the one whole. If the existence of laws assessed separately, one could put 3,5 points (by four-point scale). However, the way the law is applied, lowers the assessment almost to nil".