"The main subject of the meetings conducted by the foreign affairs minister of Azerbaijan Elmar Mammadyarov in USA was regulation of the Nagorno Karabakh conflict".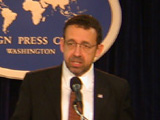 This opinion belongs to the American co-chairman of the OSCE Minsk Group Steven Mann.
Steven Mann who participated directly in the meetings said that the FAM head held very important consulting in Washington.
"The USA government is hopeful for the peace talks conducted at present. We think so basing on the serious dialogue lasting already more than a year between the sides. The heads of Azerbaijan and Armenia are decisive in solving the conflict peacefully".
Though Steven Mann noted some progress achievement in the talks' process, he said that more advancement is needed in order to sign a peace treaty.
/APA/