A diplomat Artur Leng is appointed a new Ambassador of Israel to Azerbaijan, the Israeli Ambassador to Azerbaijan Eytan Naye accomplishing his diplomatic mission in Azerbaijan told a news conference on 4 August in Baku.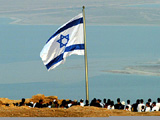 The diplomat noted, the Ambassador Artur Leng will arrive in Baku on Wednesday, on 10 August, and Naye himself will leave Baku on 7 August on Sunday. (Trend)
It should be noted, the responsibilities of the Israel's Charge D'affaires will be temporarily performed by the ambassador's second councilor Yakov Finkelstein, who will also completes his mission in Azerbaijan upon arrival of a new Ambassador and leaves for Tel-Aviv.