Extraordinary and Plenipotentiary ambassador of Israel in Azerbaijan Eytan Na'eh held a press conference in the International Press Center.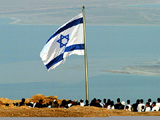 Stating that he spent 4 interesting years in Azerbaijan, the ambassador noted that he had been to different regions of the country: "Israel opened its Embassy in Azerbaijan 12 years ago. I am happy that, I was the third ambassador of Israel to Azerbaijan".
E.Na'eh said there is cooperation between Azerbaijan and Israel in different spheres and these relations are developing regularly.
"Israel-Azerbaijan relations have developed especially in economical sphere. The government of Israel invested $10 million to the agriculture of Azerbaijan. Israeli companies participated in the construction of security walls of Bina airport. Israeli companies functioning in Azerbaijan have increased in number. The cooperation in the fields of ecology, telecommunication, natural resources, education, and tourism is developing. Tens of Azerbaijani students are studying in the High Schools of Israel. These Universities are the leading educational institutions of the world. The art figures paid mutual visits, too. This process is in high level. A number of Azerbaijani officials paid visits to Israel during 4 years. These visits are planned to be continued too".
The ambassador stressed that Azerbaijan is a tolerant country. He thinks, anti-Semitism which exists in the whole world is not observed in Azerbaijan. Azerbaijanis attitude towards Jews like brothers "We are thankful to Azerbaijanis for this attitude. Sheikhulislam in Azerbaijan allocated means for repairing of synagogue while synagogues are exploded and destroyed in the whole world. President Ilham Aliyev addressed to the Jewish community in Guba as "our brothers" during his both visits to Guba.
The President stated in our meeting yesterday that, such attitude of Azerbaijanis towards Jews is not a state policy. That is natural character of Azerbaijanis .As a matter of fact Azerbaijanis also worry about the anti-Semitism movement spread in the whole world". The ambassador stated that, this tolerant attitude of Azerbaijanis was not overlooked by the world community, by Jews first of all: "You will see how Jews love Azerbaijanis if you visit Israel. Everyone is in sympathy with Azerbaijan in Israel. There are Azerbaijani communities in this country. Generally speaking, Azerbaijan-Israel relations are developing in high level. I hope the development of the relations will result in the opening of Azerbaijani Embassy in Israel".
The ambassador emphasized that he will leave Azerbaijani with pleasant impressions. He said he had friends here. "I shall miss my friends and delicious dishes of Azerbaijan most of all". E.Na'eh stated that Arthur Lenkin has been appointed to the position of ambassador to Azerbaijan.
He said of the new ambassador to come Azerbaijan on 9 August: "I shall leave Azerbaijan two days before he arrives, on Sunday. I have not received a new appointment yet".
The ambassador reminded that, Israel support the solution of the Karabakh problem by peaceful way, in the frame of territorial integrity of Azerbaijan. He also noted that, there is not military cooperation between Azerbaijan and Israel and this is not expected to be in near future.
The ambassador also told that Israeli delegation will not come to observe the parliamentary elections in Azerbaijan due to autumn.
/APA/