The tension appeared in Russia -Azerbaijan borderline has not been getting slower for a long time.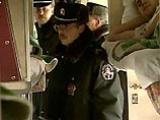 Russian border-guard and customs officials are making car drivers, as well as small and middle sized entrepreneurs carrying goods to both countries wait in the border checkpoints for many days. A lot of cars carrying fruits and vegetables to Russian from Azerbaijan are made to stay in neutral territory. As the result, the fruits ruin and it causes damage to the owners.
Citizens of both countries carrying goods to Dagestan in front of Samur border checkpoint told the north bureau of APA that, Russian customs officials are hurting the citizens on the pretext that there is a commission in the border checkpoint. Besides, great deals of bribes are taken from the passers of the borderline. The intensified working regime in the borderline applied by Russian side caused serious dissatisfaction.
Residents of Dagestan told APA that, the citizens carrying clothing from Sadarak fair of Baku pay 1000 or 1500 rubles for every package illegally. In addition, Russian customs officials behave rudely to the owners of goods.
Head of press service of State Council of Dagestan Eduard Urazayev told Dagestan bureau of APA that, the intensified working regime of Russian border-guards are due to the antiterrorism operations conducted in the North Caucasus: "The border-guards and customs officials have been instructed to examine all the goods before letting pass the border checkpoints".
However, political experts in Mahachkala think in quite other way round. One of them told Dagestan bureau of APA that, Russian side makes the situation in the borderline tense artificially: "This is linked with the forthcoming parliamentary elections in Azerbaijan. Official Moscow sends warning to Azerbaijan on the eve of pre-election, the USA and West which are intending to increase their powers in this region  to deal with its interests in the South Caucasus".
/APA/