"It is possible to reach a consensus on the Nagorno Karabakh conflict in the next meeting of Azerbaijani and Armenian Presidents in Kazan on 26 August. The negotiations conducted in the past one year make it possible to guess it".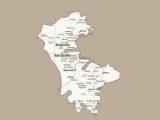 International Crises Group project director for the Caucasus Sabin Frazer told the radio of "Liberty".
Ms.Frazer said that the population is not informed enough about the negotiations and this caused dissatisfaction, speculation in the media: "The important thing is that, the governments of Azerbaijan and Armenia should give clear information to the public, regardless of reaching any consensus. Otherwise, the population of both countries will react negatively to any agreement".
The next monthly report of the International Crises Group reads that, OSCE Minsk Group co-chairs talked about the peace optimistically during their visit to the region. It is stated in the document that, the issue on referendum in Karabakh is disputed in the media; Ministry for Foreign Affairs of Azerbaijan refutes it. The report states that, though the public opinion is till sharp in Azerbaijan the situation is calmer in Armenia.
The document also stresses that, international pressure on Azerbaijan increases on the eve of the parliamentary election, America, European Union, and OSCE made statements on the importance of having free and fair election process.
/APA/