The president Ilham Aliyev received the ambassador of Israel in our country Eytan Na'eh today in connection with ending of his diplomatic activity in Baku.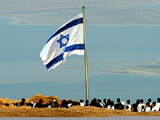 APA was informed about it from the press-service of the President's Office. I.Aliyev expressed his gratitude to the ambassador for his services in development of the Azerbaijan-Israel relations and stressed that during the period of activity of E.Na'eh in Azerbaijan the relations between our countries were developed successfully, and mutual visits of high-level delegations were realized.
The president noted that the activity of the ambassador on humanitarian questions is welcomed by the public of Azerbaijan and wished him success in his future activity.
E.Na'eh, in his turn, informed that the period of his activity in Baku was very interesting and he is glad of his working in our country during this years being historical period for Azerbaijan. He expressed his satisfaction on cooperation with the government of Azerbaijan in the direction of development of the two-sided relations.
The ambassador noted that development of the relations with Azerbaijan is one of the priority directions of the government of Israel. He expressed his assurance on that the new ambassador of Israel to work in Azerbaijan will also give his gift to development of the relations of our countries.
The diplomat expressed his hope on that Azerbaijan will rapidly develop under the leadership of the president Ilham Aliyev after this and stated that the state of Israel wants to see Azerbaijan as luxurious, developing country.