The Republic Prosecutor's Office (RPO) is preparing documents for extradition of Mehdi Khalilov to Azerbaijan who is accused of participating in the confrontations happened on 15-16 October, 2003 and beating the associate of the "Lider" TV Sahil Karimli.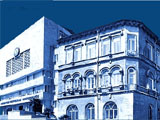 APA was informed about it from the press-service of RPO. According to the information, after RPO prepares the documents it will send them to the General Prosecutor's Office of Greece. We should note that M.Khalilov left Azerbaijan after the 15-16 October events. He was given a political asylum in Germany.
He has got a German passport at present. Search was announced on M.Khalilov by means of the Interpol. He was arrested in Alexandria city of Greece on July 28.