"Regrettably, OSCE and Venice Commission main recommendations have not been adopted after all".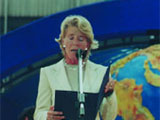 Council of Europe Venice Commission Secretary Gianni Buquicchio: "I  told the radio "Liberty".
He said that he was surprised of Milli Majlis' (parliament) adoption of amendments to Election Code  as President sent: "I felt while I was in Baku recently that the parliament was not in the intention of taking into consideration our recommendations. So, decision didn't surprise me, I simply regretted". According to Gianni Buquicchio OSCE and Venice Commission recommendations meet the demands of Azerbaijan. However, the draft law on amendments to Election Code doesn't contain the greater part of recommendations of Venice commission and OSCE given in 2003 and 2004.
G. Buquicchio: "I stated that, the suggestions of Venice commission are not compulsory. But, Council of Europe Parliamentary Assembly will take into account while evaluating the November elections that the recommendations were not adopted. The election due to November is very important test for Azerbaijan. The international observers didn't consider the previous elections free and fair. Therefore, let's hold a democratic election at least once"
/APA/