"Elmar Mammadyarov's opinion about the agreement of two elements in the talks processes is true. It is possible to say these elements have been agreed on the base of the compromise".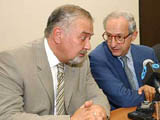 APA was told by OSCE Minsk Group Russian co-chairman Yuri Merzlyakov in his exclusive report.
The co-chairman responded to the question "Might the Presidents confirm the agreed elements?" "I think such agreement can be achieved if we prepare the formula to satisfy the both sides".
However, he refused to inform about the elements. The Russian co-chairman's opinion concerning the impact of Turkish Prime Minister Rejeb Tayyib Erdoghan's visit to Baku on Turkey-Armenia relationships, and the solution of the Nagorno Karabakh problem was like: "I always considered that, Turkey's position is very important in the regulation of the Nagorno Karabakh problem. Normalization of Turkey-Armenia relationships has great role in the normalization of the situation in the region generally".