The Public Television and Radio Broadcasting Company will air its debut broadcast in August, according to the chairman of the PTRBC Broadcasting Board.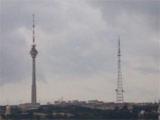 Jahangir Mammadli told Trend that the Board had already approved the director and the heads of departments of the structure.
"At present we are involved in staffing and technical issues," he said. The staff is chosen by the Committee of Directors, and is subject to approval by the Broadcasting Board. The Board also oversees decisions by the Committee of Directors. "PTRBC general director proposes candidates to high-ranking posts. Thereafter, the Broadcasting Board approves them," Mammadli said.
The broadcasting structure will be headquartered in the former building of Ozon Plant, some 20 minutes' drive from the central part of Baku. The building is currently under repair. "The location is suitable for the PTRBC, and there is no necessity to carry out a major overhaul on the entire compound. It is expected that the repair work will be over by July 20 – some studios will be ready for operation by that time too. The general director of the PTRBC promises that the public television and radio will start broadcasting in August," Mammadli noted.
Meanwhile, he complained of the lack of the state funding provided for the normal activity of the structure. According to Mammadli, the wherewithal could be as high as 30 million U.S. dollars – 10 times more the State's contribution of 3 million U.S. dollars.
Mammadli also stressed that competent representatives of the Council of Europe don't show an interest in preparatory arrangements in the run up to the inauguration of the Public Television and Radio Broadcasting Company in Azerbaijan.