The parties of "Azadlig" or Freedom bloc decided to hold rally on 2 July.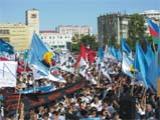 Though the bloc decided to hold rally in 15 districts, the number has reached to 20 now. Head of department of massive rallies of ADP Zakir Huseynov told APA that, the Rally Committee made this decision certain.
The bloc is in the intention of holding march-rally in 11 districts of Baku and in the territory of Apsheron. H.Huseynov stated that, they are going to organize the rallies on the same day and at the same time.
The Rally Committee will address the relevant executive powers for permission on 27 June.