«The Azerbaijan - Turkey relations are high-level and manifests as friendly, fraternal and strategic partnership," Novruz Mammadov, the head of the Pubic Political Department of the Azerbaijani President's Apparat, said on the eve of the forthcoming official visit of Turkish Prime Minister Rejep Tayyub Erdogan to Azerbaijan on 28-29 June.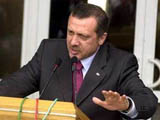 «In general the visits of the Azerbaijani and Turkish Presidents, as well as the Turkish officials to Azerbaijan are of traditional character. I attach great importance to the Turkish PM's visit and expect it importance in sense of opening new stage in the development of bilateral relationships between the two countries. During the meeting the Azerbaijani President and Turkish PM will focus namely on these issues," he underlined.
The Foreign Ministry told Trend that experts of the two countries were involved in development of a packet of documents to be signed during the Turkish PM's visit. They are joint communiqué, agreements on technical-economical cooperation, on cooperation in the spheres of education, science and cartography, on interaction in extreme situations.