First sitting of sub-committee of the PACE on Karabakh problem was held.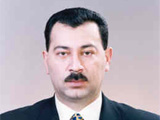 APA was informed by head of Azerbaijani delegation to PACE, committee member Samad Seyidov. According to S.Seyidov, chairman of the committee, former secretary-general of PACE Rassel Konstone addressed the sitting first: "Rassel Konstone stated that, the fifth item of the Resolution on the establishment of the committee in the Session held in January states that the establishment of committee and paying much attention to the problem is the gift to the effort of the Council of Europe to the peaceful solution of the problem. The committee decided to hold regular meetings on this".
According to S.Seyidov the next meeting is expected to be held in Paris, capital of France on 12 September: "There are two issues in the agenda of the meeting. The first is the announcement of the position of the OSCE Minsk Group member states, the second is desquamation of the information of the co-chairmen or the persons representing them and inviting them to later meetings of the committee".
S.Seyidov told that the committee members are expected to visit the region on the basis of this information.