The Russian citizens, who observed the so-called 'parliamentary elections' in Nagorno-Karabakh, did it on their own initiative and privately," Information and Press Department if the Russian Foreign Ministry announced.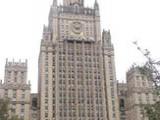 The Russian government supports the territorial integrity of Azerbaijan, basic principles of the international law. Russian does not recognize Nagorno-Karabakh as an independent state. Russia is sure that future status of the region should be defined without use of force and threats, but only political talks among all sides of the Minsk process.
According to the Russian government, the peaceable resolution of the Nagorno-Karabakh conflict should not depend on any elections held in Karabakh.
The Department assured that Russia in close cooperation with its partners in the co-chairmanship at the OSCE Minsk Group (the United States, Russia and France) will hence assist Azerbaijanis and Armenians in finding a solution to the conflict.