Expansion of bilateral cooperation between Azerbaijan and the European Union tops the agenda of the corresponding meeting of the parties, which opened today (June 23) in Baku.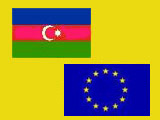 Addressing the meeting, Azerbaijan's deputy foreign minister Makhmud Mammadguliyev emphasized the importance of cooperation between Azerbaijan and European Union. "We are interested in the development of cooperation in this field, and there is a similar commitment from the European Union too. This year Azerbaijan joined EU's neighborhood policy. There has been prepared an action plan for Azerbaijan [in the framework of that policy], and the document will be signed today. An appropriate program [concerning action plan] will be drawn up following the approval of the document by autumn 2005," he said.
The European Neighborhood Policy is one of the major issues – along with the upcoming parliamentary elections in November, the existing state of democracy and human rights in Azerbaijan, streamlining of visa regime, poverty reduction program, commissioning of the Baku-Ceyhan (BTC) pipeline, prospects for the South Caucasus gas pipeline, and realization of the Extractive Industries Transparency Initiative (EITI) – on the agenda of the meeting.
The European delegation is formed of representatives of governmental circles of Bulgaria (pending EU accession in 2008 – Ed.), Germany, Greece, Finland, Iceland, Italy, Lithuania, Luxembourg, Poland, Romania, Spain, the United Kingdom, and EU officials, with Azerbaijan represented by officials from the Ministries of Foreign Affairs, Industry and Energy, Economic Development, Transport, Taxes, Ecology and Natural Resources, and Agriculture, as well as the Milli Bank (central bank).
For his part, Hughes Mingarelli, a member of the European delegation, confirmed the interest of the European Union in the expansion of cooperation with Azerbaijan, stressing on the cooperation between the parties in the fields of transport and energy. "Major progress has been achieved in this direction," he said.
He also accentuated on the importance of the commissioning of the BTC pipeline, as a driving force for regional economies. "Poverty is everywhere in Azerbaijan, and this question is also a subject of discussion at today's meeting," Mingarelli said.