The volume of the defense expenses was increased in the bill related to the changes to the state budget in Milli Majlis.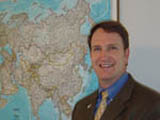 The foreign agencies widely explain defense expenses' of Azerbaijan reaching $ 313 million from $ 258 million after the changes were made to the "About the state budget of 2005" bill.
It is informed in the commentaries that means added to the defense expenses will be used for purchasing military equipment. The president of the "Jamestown Investigations Center" working in Washington Glen Howard expressed his relation to the question of increasing the military expenses.
In his interview to Radio Liberty he said that the army of Azerbaijan is better provided with military equipment than the previous period. Mister Glen Howard who was on a visit in Azerbaijan the other day informed that he does not treat the Nagorno Karabakh problem as a frozen conflict. G.Howard visited the position of the army of Azerbaijan situated in the front region and said that the situation is tense: "We visited the conflict zone. The conflict is very inconstant. Skirmishing is continued. 7 Azerbaijani soldiers and 3 civil persons died since January. This was informed to us by the commanders of the army of Azerbaijan. The situation is very tense. Is spite of this, instead of military spirits, peaceful spirits reigns in Baku".
We should note that the members of the delegation led by G.Howard met with the president Ilham Aliyev and the foreign affairs minister Elmar Mammadyarov. G.Howard explaining these meetings informed that the officials of Azerbaijan are in the optimistic mood in connection with achieving piece: "I met with great optimism in the Foreign Affairs Ministry. I do not know in what level it is real, but they believe that they are mowing towards to peace".
According to the words of the American experts, strategic significance of Azerbaijan for USA is strengthening gradually: "Strengthening of inconstancy and increasing of the problems in Uzbekistan and Kyrgyzstan compel the USA aircrafts flying to Afghanistan to cross over the territory of Azerbaijan. Azerbaijan is becoming the important country for the national security strategy of USA in Middle Asia".
The president of the "Jamestown Investigations Center" stressed that Azerbaijan also will play great role in not spreading of a nuclear weapon. "Iran tries to get the nuclear weapon, Russia provides Iran with the nuclear technology. Azerbaijan stands between Russia and Iran. That is why Azerbaijan is the significant country from the standpoint of impeding Iran to get the nuclear weapon".
/APA/