"Parliamentary elections" held in the Nagorno Karabakh Region (NKR) of Azerbaijan will have no effect to the peace process and future status of this territory" Press minister of France Janne-Batist Matye announced this statement.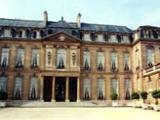 Representative of Yelisey palace stated that future status of Nagorno Karabakh is one of the subjects of the negotiations held by the intermediary of Minsk group of OSCE.
The official of France stated once more that France as whole world unity recognizes territorial integrity of Azerbaijan and does not accept the Nagorno Karabakh as an independent state.
/APA/