Georgian Prime Minister Zurab Nogaideli will pay an official visit to Baku in the first half of July. APA was informed from Georgian Embassy in our country.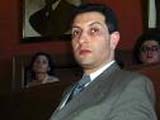 Meeting of Azerbaijan-Georgia Intergovernmental Economic Commission will be held in the frame of the visit. The meeting is planned to be held in Ganja one time and in Baku another time.
The issues concerning economic relations between the two countries, cooperation in the fields of customs, finance, transport, energy projects to be implemented in the region, the debt of Georgia to Azerbaijan will be discussed in the negotiations to be conducted in Baku by the Prime Minister.