Yesterday President Ilham Aliyev issued pardon decree.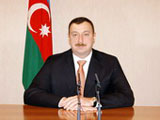 APA was informed about from the press service of President's Office.
According to the decree 100 prisoners have been freed from the rest of their sentence. Among those pardoned included Rza Guliyev who is presumed as political prisoner, nephew of chairman of ADP Rasul Quliyev, and deputy of PFPA (r) Ramiz Tagiyev and other persons.