Next meeting between Presidents of Azerbaijan and Armenia Ilham Aliyev and Robert Kocharyan on the regulation of the Nagorno Karabakh problem will take place within the CIS summit in Kazan in August.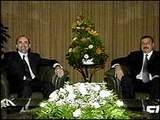 Deputy foreign minister Araz Azimov told journalists.
A.Azimov also stated that, the foreign ministers might meet for once or twice prior to the meeting of the Presidents. Stating the process of talks has intensified, deputy minister told that meetings on the level of experts of the two states to last for several days are expected to be held.
/APA/