Any protest action in Azerbaijan will be sanctioned after 15 June, Ali Hassanov, the head the Public and Political Department of the President's Executive Power, told journalists.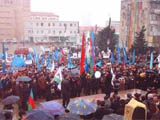 The head of state signed a relevant decree.
"All well understand the reasons for banning the rally scheduled for 21 May. Baku will shortly host an event which will play a considerable role in the life of the country - the commissioning of the Baku-Tbilisi-Ceyhan main export oil pipeline and fulfillment of the pipeline with the first oil. The Presidents and state officials of some countries. How to allow the opposition then to rally in Baku in such conditions? We once allowed them to stage an action on 15-16 October 2003, but they did the things that the Mayoral office spent a month to bring order in the streets. Who can guarantee that the opposition will assemble in the square, show placards and disperse? Indeed, never. Well aware of that we did not allow the opposition to rally on the eve of the important event," Hassanov underlined.
A rally sanctioned the last was held on 12 October 2003 - three days prior to the presidential elections. Disagreeing with the results of the presidential elections people mostly comprised radical opposition, held the unsanctioned rally on 15-16 October. During the rallies they made considerable damage to the economy of the city. The city authorities told Trend damage amounted more than 5bn manats.