Official Baku is seriously concerned over the possibility of stationing of part of armaments from Russian bases in Georgia on the territory of Armenia, deputy Foreign Minister of Azerbaijan, Araz Azimov stated on 20 May, Trend reports.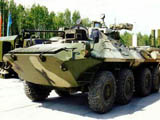 He reminded that in the past, Russia, while withdrawing its troops, placed part of the armaments on the territory of Armenia. "We are strongly concerned over it. We would not like Russia do it again", Azimov said.
He hopes, that respective statement of the head of the chief headquarters of the Russian armed forces, General Yuri Baluevsky, will not correspondent to reality.
"We are concerned over it, because the situation is rather sensitive in the region, and this atmosphere must be taken into account. Under such conditions it is better not to do such steps", diplomat said.