Head of Exertive Power of Baku Hajibala Abutalibov invited deputy chairman of APFP(r) Hasan Karimov, assembly member of Musavat Party Mammed Zeynalov and director of organization of ADP Mammed Zeynalov - organizers of the meeting of "APFP(r)-Musavat-ADP" election bloc to be held in 21 May to the Mayor's Office yesterday.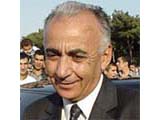 Deputy Chairman of Head Police Office of Baku city Yashar Aliyev also participated in the meeting. APA was informed from the press service of APFP(r).It is said in the information that, H.Abutalibov asked the meeting organizers to postpone the march-meeting. Mayor also said that they are not responsible for the security of the meeting to be held on 21 May. He stated that the opposition wil be allowed to hold actions after June15.
H.Karimov stated that, the opposition is insisting on holding meeting on 21 May and will not change its mind. Reminding that EP of Baku city didn't allow the opposition actions after the presidential elections of 2003, H.Karimov said that he doubts the promises of EP. The meting participants demanded the EP to refuse its decision on not allowing the meeting and provide condition for the opposition action to be held on 21 May.