Former Speaker of the Parliament, Rasul Guliyev may come back to Azerbaijan only after pardoning him by the President Ilham Aliyev, head of the Interpol National Centre Bureau, colonel Madat Guliyev told Trend.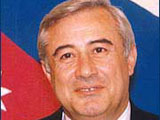 According to him, due to appropriation of great amount of state funds by Guliyev, the International Police Organization (Interpol) announced the "red search line". Returning of his wife to Azerbaijan means nothing, as the country's Prosecutor's Office opened a criminal case not against his family, but personally against Guliyev.
Therefore, this criminal case will not touch his family. If Guliyev himself steps over the border, he will be immediately arrested. Ex- Speakers' coming back might be possible only in the case, if a humanistic action will be made from the part of the President and crimes, committed by Guliyev will be forgiven.
The Rasul Guliyev's spouse, Elmira Guliyeva returned to Azerbaijan after 9-year separation.  Some media noted, that ex-Speaker would also return to Azerbaijan soon.