The next meeting between Foreign Minister of Azerbaijan and Armenia will be realized in June.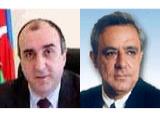 The meeting will be held in the previous format - with the participation of the co-chairmen of the Minsk Group of OSCE.
This was informed by the Russian co-chairman of the Minsk Group of OSCE in his exclusive explanation given to APA. "I can not say anything about the exact time and place of the meeting. To bring the foreign affairs ministers together is not an easy task; it has some difficulties to determine its time. The both ministers and co-chairmen have their own working schedule".