Armenians Roman Teryan and Arthur Apresyan detained in the Ministry of National Security (MNS) to be sent to the third country soon.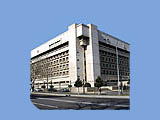 APA was informed by one of the diplomatic sources. But the name of that country and the time of sending Armenians are not announced.
APA was informed from the MNS center with public relations that, the talks on sending these persons to the third country are continued. The UN Supreme Commissariat on Refuges Office in Baku stated "no interpretation is made concerning this". It must be note that, these persons came to Azerbaijan in April, 2004.They stated that they are chased in Armenia and it is impossible to live in this country any more and that is why they fled to Azerbaijan in order to be sent to the third country.