Inter-governmental agreement on cooperation in military field was signed between Iran and Azerbaijan.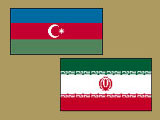 The document was signed during the official visit to Iran on 14-16 May 2005, of the Azerbaijani Defense Minister, Safar Abiyev, Trend reports with reference to the press-service of the Ministry of Defense of Azerbaijan. The agreement covers international security and defense policy spheres, military - economic activities, military history, military medicine and healthcare, holding cultural and sports events in the armed forces, as well as other fields of cooperation.
At the meeting with the Iranian Defense Minister, Vice-admiral Ali Shamkhani, issues of initiating, developing and further prospects of bilateral military cooperation were discussed. "We must build cooperation in all fields, including the military sphere, to create conditions for our people's development", Shamkhani stated.
Abiyev has been also received by the Iranian President, Mokhammed Khatami. The head of the country stated: "Iran is a close friend and neighbor of Azerbaijan. We are one nation, two states, and relations between our countries must develop in all spheres, including the military one. We have a common future and security. Military ties between our countries must strengthen".  
The Azerbaijani Minister expressed necessity for development relations with Iran in the military field. "We are ready to develop ties with the Ministry of Defense of Iran", Abiyev stressed.
Having touched upon the Karabakh conflict, Khatemi stated that Iran always supported and would support the just line of Azerbaijan. I promise you, that our relations will always be strong and tight", President said.
In the framework of the visit, Abiyev attended Imam Khatemi's Mausoleum, the exhibition of the Iranian Defense Ministry and the plant, producing armoured military equipment and material,  rifles, to get acquianted with the work and products of the enterprise. The Minister has also visited the Embassy of Azerbaijan to Iran.