President of Azerbaijani Ilham Aliyev and Armenian President Robert Kocharyan held next meeting on the regulation of the Nagorno Karabakh conflict in Warsaw.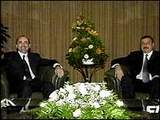 There was a joint meeting of Azerbaijani and Armenian Presidents, OSCE Minsk Group co-chairmen, Foreign Ministers of Russia and France Sergei Lavrov and Michel Barnye before the meeting held in private.
After 15-minute discussions private meting of Presidents started. Heads of MFA of Azerbaijan and Armenia and co-chairmen were invited to the room in which the President was holding talks after the meeting lasted more than 2 hours. The ministers were given definite instructions on reaching a consensus in the direction of the regulation of the conflict; the co-chairmen were advised to activate their activities.
Later on, President Ilham Aliyev met with Turkish President Rajab Tayyib Erdoghan. The issues concerning, recent condition about the Nagorno Karabakh Problem , exploitation of Baku-Tbilisi-Ceyhan oil pipeline soon, Azerbaijan-Turkey relations and other issues were discussed in the meeting.
I.Aliyev said in the talk to the journalists that, the positions of the sides were discussed again in the meeting with Armenian President. Stating that it is early to inform bout the results, President said that he hopes the talks will achieve result and the problem will be solved.
Elmar Mammedyarov appreciated the meeting of the Presidents as achievement in the regulation of the Nagorno Karabakh problem.
/APA/