The USA welcomes the Azerbaijan President, Ilham Aliyev's enactment signed recently, on improvement of election practice, the US Ambassador to Azerbaijan, Rino Harnish told the media on 12 May, Trend reports.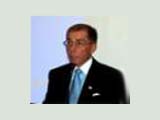 According to him, clauses of this enactment are aimed at the assisting in holding elections. "This enactment envisions issues, according to which local officials and authorities must create opportunities for free assemblies and equal use of media. I believe that for holding fair elections for all parties and citizen there will be created possibilities for bringing their opinions to electors and holding meetings, Rino Harnish said.
He also noted, that it would promote for all layers of the society to be represented in the Azerbaijani Parliament.