The OSCE Office in Baku today welcomed President Ilham Aliyev's decree on improving the practice of elections in Azerbaijan, OSCE reported on Tuesday.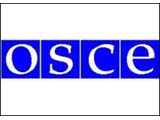 The decree instructs the executive authorities to ensure freedom of assembly, compile accurate voter lists, ensure equal access to the media for all candidates, create conditions for exit polls, as well as not to allow persecution of citizens for their political beliefs. It also envisages the liability of the executive authorities and state officials for illegal intervention into the electoral process.
"This timely initiative aimed at preventing possible violations of the electoral law by the executive authorities is a very important step that I appreciate and commend," said Ambassador Maurizio Pavesi, Head of the OSCE Office in Baku.
"By consistent implementation of both the letter and spirit of this decree and by further improvement of the electoral legislation and practices, Azerbaijan could have elections that correspond to the international standards for free and fair elections."
"I believe this Decree could contribute to the normalization of political life in Azerbaijan," Ambassador Pavesi added.
He stressed the readiness of the OSCE Office to continue its co-operation with the country's authorities and institutions:
"We stand ready to offer further advice and assistance in order to achieve the progress in the field of elections for the benefit of the Azerbaijani people."
The next parliamentary elections in Azerbaijan are scheduled for November 2005.