The special representative of the European Union on the Southern Caucasus countries Heyki Talvitiye met with the representatives of the "YeS" and "Tripartite" blocks - the chairman of PFPA (r) Ali Karimli, the deputy of the chairman of the Musavat Party Sulhaddin Akbar, the general secretary of ADP Sardar Jalaloglu, the leader of the National Unity Movement Lala Shovkat, the president of Azerbaijan Social Forum Eldar Namazov and the chairman of ANIP Ali Aliyev in the embassy of Great Britain in our country yesterday.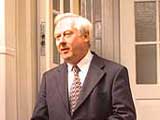 According to the information given to APA by the chairman of PFPA (r) Ali Karimli, the pre-elections situation in the country and the Upper Garabagh conflict was discussed in the meeting. Most of the discussions were about creating democratic conditions in the pre-elections period and discussing the suggestions put forward by the opposition in order to provide this condition: "We valued changing the Elections Code, especially the composition of the elections commissions, providing the liberty of free gathering, creating opportunities for the work of the independent televisions as the main condition of elections". A.Karimli stressed that the special discussions on the subject of authority-opposition negotiations hadn't been held in the meeting.
The co-organizer of the "YeS" bloc Eldar Namazov also informed APA that at the parallel with the Karabakh conflict and the regional conflicts, the main attention was directed to the elections process. Eldar Namazov said that in all problems the opinions of both the bloc members corresponded one to another and according to his words, the members of the meeting approved of the idea of forming the "New TV" company.
H.Talvitiye was informed that because the registration of this television in the Ministry of Justice was impossible, the organizers of the company were obliged to broadcast the television from one of the European countries. E.Namazov also informed that H.Talvitiye, in his turn, stated that EU was a supporter to holding all processes in Azerbaijan under the democratic conditions. The "YeS" representative stressed that most of the opinions of the European guest conformed to the opinions of the opposition leaders.