The next meeting of the presidents of Azerbaijan and Armenia Ilham Aliyev and Robert Kocharyan will be held in the capital of Poland, Warsaw, in the evening on May 15.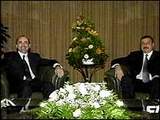 This was informed to APA by the Russian co-chairman of the Minsk Gorup of OSCE Yuri Merzlyakov.
According to his words, before this meeting the co-chairmen will meet with the Minister of Foreign Affairs of Armenia Vardan Oskanyan on May 14. We should note that the co-chairmen held negotiations with the Minister of Foreign Affairs of Azerbaijan Elmar Mammedyarov in Frankfurt on April 27.
Giving information about the process of meeting of the two presidents, Y.Merzlyakov said that, usually co-chairmen meet with presidents, they express their views on the situation; give information about the results achieved since the last visit of the presidents. Then the presidents meet in private. After the negotiations ended the co-chairmen are informed about the results of the visit and new directions offered.
Y.Merzlyakov said that he expects much from the Warsaw meeting of the presidents: "They met last in September of the last year. At present there are a lot of problems to discuss."
We shall propose to the presidents the agenda of the meeting consisted of definite questions. They might either accept this agenda or not...