?zerbaijan fulfilled the most part of its commitments before the Council of Europe.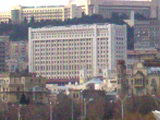 Due to it, the state does not express its concern on this issue, which is to be discussed at the summer session of the Parliamentary Assembly of the Council of Europe (PACE), to be held in June, head of the law-enforcement department under the President's Executive office, Fuad Aleskerov told Trend.
According to him, the level of successful development of relations between Azerbaijan and CE raise doubts on claims from the part of Strassburg to Baku.
"Countries, which gained recently independence, have certain problems. Azerbaijan also has them. But, despite this, our society has been developing, gradually overcoming these problems. From the other part, the CE activities are not only to apply punitive measures to any state. CE is a supporter of cooperation with partner countries. Azerbaijan realizes this cooperation successfully. To date the Azerbaijani parliamentarians hold monitoring in other countries as members of the PACE monitoring committee. Lately the structure on fighting corruption has been set up within the CE, which held monitoring in Rumania, and where MPs from Azerbaijan also participated. The democratic institutions have been developing in Azerbaijan. The Public TV, which will broadcast soon, has been set up. The problem of "political prisoners" has been practically solved. The law and judicial system processes are improving, harmonization of the local legislation with the European one is taking place. The CE has been informed of it. Therefore, hardly any claims will be produced to Azerbaijan at the PACE summer session", Aleskerov stressed.