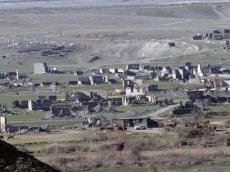 By Azernews
By Sara Israfilbayova
The government of the Federal Republic of Germany considers the Nagorno-Karabakh region and seven adjacent districts controlled by the Armenian armed forces to be part of Azerbaijan and does not recognize the so-called "Nagorno-Karabakh Republic".
The right-wing Alternative for Germany (AfD) of the Bundestag sent a request to the German government on the topic "German-Armenian Relations", which also included some questions about Nagorno-Karabakh.
Commenting on the question "How does the German government assess the international legal status of Nagorno-Karabakh?", the government stressed that the Nagorno-Karabakh region is part of Azerbaijan.
Since  1992,  the  Nagorno-Karabakh  conflict  has  become  predominantly  a  problem  of  international  importance.  After  Azerbaijan  became  a  member  of  the Conference for Security and Cooperation in Europe (CSCE),  in  accordance  with  the  principles  of  this  organization,  the  solution  of  the  Nagorno-Karabakh  conflict  was  in  the  focus  of  public  participants.
The  OSCE  Minsk  Group, which, along with the co-chairs - Russia, the U.S. and France - includes Belarus, Germany, Italy, Sweden, Finland and Turkey, was established for settlement of the conflict.
The Nagorno-Karabakh conflict began in 1988 when Armenia made territorial claims against Azerbaijan. As a result of the ensuing war, in 1992 Armenian armed forces occupied 20 percent of Azerbaijan, including the Nagorno-Karabakh and seven surrounding regions.
During the battles, more than 20,000 people were killed, more than 50,000 people were wounded and maimed. More than 1 million people, victims of the policy of genocide and ethnic cleansing carried out by Armenia against Azerbaijan, live in the situation of refugees and IDPs, are deprived of basic human rights.
Despite the demands expressed in UN Security Council resolutions on the need to recognize the territorial integrity of the Republic of Azerbaijan and the release of the occupied territories of Azerbaijan without preconditions, Armenia continues to pursue its aggressive policy.