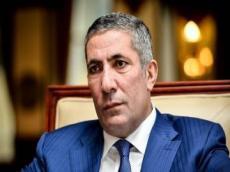 By Trend
Recently, a group of people has been holding various mass rallies using the issue of the Armenia-Azerbaijan Nagorno-Karabakh conflict, Azerbaijani MP Siyavush Novruzov said Oct. 5 at a plenary session of the Azerbaijani parliament.
This issue is raised by people who have nothing to do with Nagorno-Karabakh, and this confuses the public of Azerbaijan, he said.
He noted that the issue of Nagorno-Karabakh is always in the center of attention, and Azerbaijani President Ilham Aliyev carries out the necessary work in this direction.
"The president of Azerbaijan constantly informs to citizens about the negotiations, he always touches the Nagorno-Karabakh issue, be it on forums or during visits to the districts," Novruzov said. "This is all known to the public."
The MP added that Nagorno-Karabakh belongs to all Azerbaijanis, noting that Azerbaijan demonstrated its readiness to resolve the Nagorno-Karabakh conflict during the negotiations, as well as strengthening its army.
"Two military parades conducted this year in the country are an example of this," he noted. "Azerbaijan always stated that it is a supporter of the conflict's peaceful settlement, but if this is impossible, the country can resort to a military solution."
The MP added that the Azerbaijani state is taking the appropriate measures to improve the living conditions of more than one million refugees and IDPs, building houses and apartments.
"Of course, they will return to their native lands," Novruzov said. "However, no one has the right to morally terrorize and humiliate them."
Novruzov also said that the conflict isn't solved by rallies on the football fields.
"The Nagorno-Karabakh issue will be resolved under the leadership of the Supreme Commander-in-Chief, as part of international law," he noted. "We are trying to solve the problem peacefully, otherwise we will resort to a military solution. Will the protesters or their children take part in the war?"
The protesters shouldn't play with the feelings of others by using the Nagorno-Karabakh issue, he added.
The conflict between the two South Caucasus countries began in 1988 when Armenia made territorial claims against Azerbaijan. As a result of the ensuing war, in 1992 Armenian armed forces occupied 20 percent of Azerbaijan, including the Nagorno-Karabakh region and seven surrounding districts.
The 1994 ceasefire agreement was followed by peace negotiations. Armenia has not yet implemented four UN Security Council resolutions on withdrawal of its armed forces from the Nagorno-Karabakh and the surrounding districts.