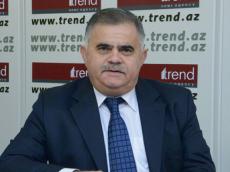 By Trend
Azerbaijan is one of the safest countries in the world, where security is provided at the highest level, political scientist Arzu Nagiyev told Trend on Wednesday.
He noted that Azerbaijan is implementing very important measures to curb the danger that threatens the national and state security of the country.
Nagiyev said that the recent events in Ganja have shown that law enforcement agencies fully control the situation in the country.
The political scientist noted that the Azerbaijani people expressed disdain for the criminals, adding that at a meeting held yesterday with the participation of the heads of law enforcement agencies, President Ilham Aliyev stressed the exclusive role of law enforcement bodies in suppressing any danger threatening national and state security.
"Today, law enforcement bodies together with Azerbaijani citizens take necessary steps within the framework of legal norms to protect their constitutional rights. That is why, having noted this, the head of state stressed that law enforcement bodies of Azerbaijan, within the framework of the law, stopped the actions of certain forces trying to instill fear in the population. With full confidence, we can say that the law enforcement agencies have coped with such a difficult operational situation", Nagiyev noted.
On July 10, at approximately 8 pm (local time, GMT+4), a group of 150-200 people of radical religious orientation attempted to disrupt public order by meeting in the square in front of the Ganja City Executive Power building, the joint statement of the Prosecutor General's Office, the Ministry of Internal Affairs and the State Security Service said earlier.
Ignoring the police warnings, the crowd resisted by using cold weapons.
A group of people of radical religious orientation, who tried to disrupt public order in Ganja, attacked police officers on July 10. Two police officers, Deputy Head of the Main Police Department of Ganja city Colonel Ilgar Balakishiyev, as well as Deputy Head of the Police Department of the Nizami district of Ganja city Colonel-Lieutenant Samad Abbasov were killed in the attacks.
As a result of the operative search activities carried out by Azerbaijan's law enforcement officers, Farruh Gasimov was arrested and handed over to the investigators, while Rashad Boyukkishiyev was eliminated July 13 as he showed armed resistance to police officers.