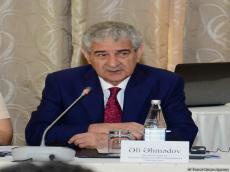 By Trend:
By 2030 the Azerbaijani society will become more socially oriented, Azerbaijani Deputy Prime Minister, Deputy Chairman and Executive Secretary of the ruling New Azerbaijan Party Ali Ahmadov said.
Ahmadov, who is also chairman of the National Coordination Council for Sustainable Development, made the remarks at the conference on nationalization and prioritization of the Sustainable Development Goals in Baku.
"Having joined the international program on sustainable development, Azerbaijan began to make efforts in this direction," Ahmadov said.
"Azerbaijan fulfils its obligations," he said. "So far, many measures have been taken in the country to update the society about the Sustainable Development Goals. Presently, the work is underway to determine and nationalize the ways of developing the Sustainable Development Goals."
Ahmadov added that by 2030 the world will achieve even greater development.
"This also applies to Azerbaijan," he said. "I would like a more socially oriented society to be created in Azerbaijan. For this purpose, the Azerbaijani government is making every effort. UN also supports our efforts."