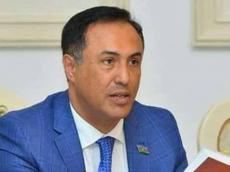 By Trend:
Armenian Prime Minister Nikol Pashinyan wants to earn dividends by proposing participation of the separatist regime created in Azerbaijan's occupied territories as a party to the negotiation process for the settlement of the Armenia-Azerbaijan Nagorno-Karabakh conflict, Azerbaijani MP Elman Nasirov told Trend June 10.
The MP noted that Pashinyan thereby seeks recognition of the separatist regime.
"In fact, Pashinyan by these delusional and absurd statements is trying to delay the negotiation on the conflict's settlement," Nasirov said. "Armenia is in a state of collapse, the country has already weakened enough, and faced a complete impasse after a wave of protests. The negotiations of Yerevan, which is in such a depressing situation, with developed Azerbaijan may become catastrophic for Armenia. Understanding this situation, Pashinyan wants to gain time."
Pashinyan knows that Azerbaijan will never accept the proposal of the separatist regime's participation in the negotiation process, and the process may be delayed a little, the MP added.
The conflict between the two South Caucasus countries began in 1988 when Armenia made territorial claims against Azerbaijan. As a result of the ensuing war, in 1992 Armenian armed forces occupied 20 percent of Azerbaijan, including the Nagorno-Karabakh region and seven surrounding districts.
The 1994 ceasefire agreement was followed by peace negotiations. Armenia has not yet implemented four UN Security Council resolutions on withdrawal of its armed forces from the Nagorno-Karabakh and the surrounding districts.