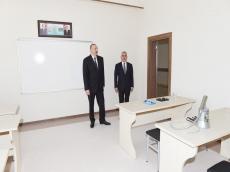 By  Trend
As part of his visit to the Nakhchivan Autonomous Republic, President of Azerbaijan Ilham Aliyev has attended the opening of the 480-seat secondary school No 6 in Garakhanbayli administrative district in the Nakhchivan city.
The head of state cut the ribbon symbolizing the opening of the school and then viewed conditions created here.
The three-storey school has two computer rooms, three classrooms supplied with the electronic boards, physics, chemistry and biology laboratories, two chess classes, military room, 24 general classrooms, teachers' rooms and gym. The school is supplied with all the necessary equipment.
President Aliyev also met with the teaching staff and representatives of the general public there.